Within ZETTLER Group's portfolio, ZETTLER Controls is a prime example of our capacity to not only develop and market high quality electronic components, but also to provide focused industry specific engineering solutions.
ZETTLER Controls offers industry leading and highly specialized support services to the HVAC/R market with a comprehensive product line of contactors, relays, transformers, heat sequencers, temperature sensors, and fan centers. The division's unique combination of customer specific product design, 100% quality testing, along with first-class sales and technical support represents a highly dependable and responsive resource for HVAC/R component requirements in both residential and commercial applications.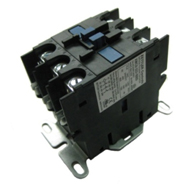 ZETTLER Controls Definite Purpose Contactors are electromechanical switching devices designed specifically for the HVAC/R industry. The most common applications of our contactors are found in air conditioning, refrigeration, and heating products. Our contactors are built to the ARI 780/790 standard in an ISO 9001 manufacturing facility. They offer high performance and great reliability and are available in several pole configurations with AMP ratings from 25-90 FLA.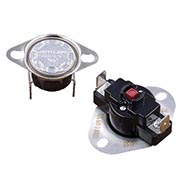 ZETTLER Controls Thermostats include defrost thermostats, defrost timer series, snap-action and high-current thermostats, water heater and appliance thermostats, and other related thermal bi-metal components, covering a variety of thermo-control heating and defrosting applications. These precision temperature–control components are manufactured in highly automated, ISO 9000 certified, production lines in our Zettler Controls (Ningbo) Co.,Ltd. China facility.
---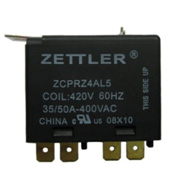 ZETTLER Controls series of Electro mechanical power/fan/and potential Relays have been at the heart of many HVAC/R industry applications for years. We manufacture the most popular style relays for use in motor, compressor, fan, and heating circuits. They are designed for heavy duty operations and long electrical and mechanical life. Each series is UL approved and available in different pole/ratings configurations to meet our customers' needs.
---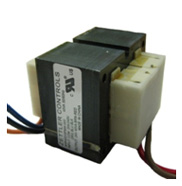 ZETTLER Controls Class 2 Transformers are used in a wide variety of low voltage applications across various industries. Our product line ranges from 20VA to 100VA and is custom configurable to meet specific application requirements. We welcome the opportunity to work with each customer in making sure they are getting the exact transformer to fit their individual requirements.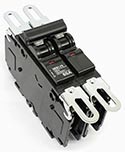 ZETTLER Controls Miniature Circuit Breakers are designed for use in residential and commercial applications. They provide excellent over-current protection and control of on/off operation in AC electrical systems. They have a voltage rating of up to 240VAC at 50Hz/60Hz and can handle current up to 60 amps.
ZETTLER Controls Electric Heat Sequencers are used to stage electric heat to prevent circuit overload. Common applications include electric furnaces, baseboard heaters, heat pump blower and heating element controls. The device uses a positive temperature coefficient (PTC) heater and bimetal disc(s) to initiate the switching action. The PTC is self-current limiting, ensuring stable switching over a wide range of voltages.
ZETTLER Controls Relay/Transformer Fan Center controls provide a conveniently packaged relay and transformer assembly for use with one and two speed fan motors and auxiliary circuits in heating, cooling or heating/cooling applications.
ZETTLER Controls Thermistors and Temperature Sensors utilize NTC (negative temperature coefficient) thermistors and are used in a wide variety of applications ranging from defrost sensing to ambient air temperature sensing. Various housing, connectors, and NTC thermistors are available to cover each specific customer application.